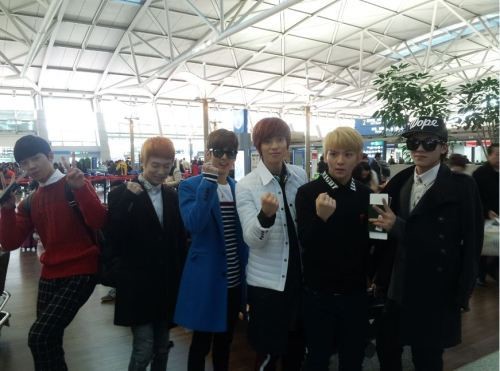 La vuelta al mundo de Teen Top hace que tenga una apretada agenda, Y-STAR 'Teen Top Never Stop Guam' se grabara en los proximos días y ellos se embarcaron a las 10 a.m en el Incheon Airport.
Teen Top esta con una chaqueta cómodo y pantalones de algodón, porque los días de viaje salvaje se acercó y ellos muestran la mejor moda en el aeropuerto. 'Never Stop de Teen Top Guam' es un viaje, desde la planificación hasta la ejecución de cualquier programa de calendario que determinan directamente con los miembros de Teen Top; miembros de las desviaciones que no fueron revelados hasta el momento (?) Puede ser un vistazo. También podrán explorar la jungla salvaje o disfrutar de un crucero de lujo al atardecer y disfrutar de una amplia gama de actividades abiertas a la figura.
Teen Top internautas en estos momentos ellos están saliendo del país y frente a la noticia las fans publicaron : "Se espera", "Bueno para ir" "Voy a estar esperando", y mostraron una reacción en caliente "OMG! Nuevo programa de variedades?! ", Dijo un fan, así como los estadounidenses y los de la Argentina, México y Japón, por favor compartir las fotos con todo el mundo y Teen Top se despidió cordialmente.
'Never Stop de Teen Top Guam' se emitirá el 05 de abril a las 11:00 PM y usted podrá ver en Y-STAR.
Mientras tanto seguirán con, <TEEN TOP 2014 World Tour"HIGH KICK" > en la región de América.
_____________________________________________________________________________
To return to the world of Teen Top makes having a busy schedule, Y- STAR 'Teen Top Guam Never Stop ' will be recorded on the next day and they were shipped at 10 am at the Incheon Airport.

Teen Top is a comfortable jacket and cotton trousers, because the days of wild ride came and they show the best fashion at the airport. 'Never Stop Teen Top Guam ' is a journey, from planning to execution of any calendar program that determine directly with members of Teen Top , ( ? ) Members of the deviations were not disclosed so far may be a look. They can also explore the wild jungle or enjoy a luxury cruise at sunset and enjoy a wide range of activities open to FIG .

Teen Top Internet right now they are out of the country and to the news fans published : , New variety show " is expected " , " Good to go " " I'll be waiting ," and showed a hot reaction " OMG! ! "said a fan, as well as the U.S. and Argentina , Mexico and Japan , please share the photos with everyone and Teen Top waved cordially.

'Never Stop Teen Top Guam ' will air on April 05 at 11:00 PM and you can see on Y- STAR .

Meanwhile they continue with <TEEN TOP 2014 World Tour"HIGH KICK" > in America .
Fuente:
Reportero Hanjunho
Vía: NAVER
Trad. al español: TEEN TOP PERU "Share the love"